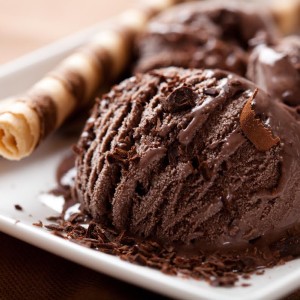 SPICY CHOCOLATE GELATO
2013-11-23 13:27:23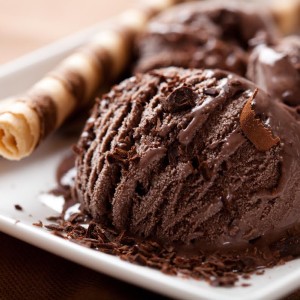 Serves 6
"Out of Mexico" Smoked California Powder
Nutrition Facts
Amount Per Serving
* Percent Daily Values are based on a 2,000 calorie diet. Your Daily Values may be higher or lower depending on your calorie needs.
Ingredients
1 cup double or heavy cream
1 cup whole milk
1 cup skim milk
2 ounces unsweetened chocolate
1/2 cup unsweetened cocoa powder
1 vanilla bean
2 eggs
1 cup sugar
1/8 teaspoon salt
1/8 teaspoon "Out of Mexico" Smoked California Powder
Instructions
1. Slice the vanilla bean in half lengthwise and scrape and set aside the seeds.
2. Melt the chocolate with milk and cream in a medium sauce pan (over medium heat). Once the chocolate has melted, whisk in the cocoa powder, avoiding clumps. Then, add the vanilla bean with seeds. Bring the mix to just under a boil, stirring frequently. Remove from heat and let the mix steep, covered, for 30 minutes to an hour.
3. Remove the vanilla bean. Reheat mix over moderate heat until hot (150 degrees), stirring frequently.
4. Whisk the eggs, sugar and salt together in a small bowl.
5. Temporarily remove the pan from the heat. Add 1/2 cup hot cream mixture to the eggs/sugar in a slow stream, whisking constantly. Whisk the egg/cream mix back into the saucepan and return to medium-low heat, STIRRING CONSTANTLY until a candy thermometer reads 170 degrees (do not let it boil).
6. In a medium to large bowl (that cream mixture will be chilled in) combine the Smoked California. Pour a small amount of the chocolate cream through a strainer into the bowl and whisk to combine, avoiding clumps. Pour the remaining chocolate cream mixture through the strainer and whisk to combine.
7. Cool completely in the refrigerator (at least 4 hours). Freeze in an ice cream maker. Transfer to an airtight container and put in freezer to harden.
The flavor intensifies as it freezes in the ice cream maker.
Out of Mexico Gourmet Chiles and Spices https://outofmex.com/